There are many types of pallet racking systems available today, and to ensure you choose the right pallet for your needs, we will explain the different types of pallet racks in the market today and the factors you need to consider before choosing one, such as the space available in your warehouse, the weight capacity, budget, specific product requirements, and plan for future expansion and adaptability.
Types of Industrial Storage Racking
Here are the various types of industrial racking systems.
Pallet Racking
Pallet racking is a storage system used to stack single items or palletized loads at single or multiple levels. Pallet racking systems typically consist of vertical upright frames and horizontal load beams supporting the pallets.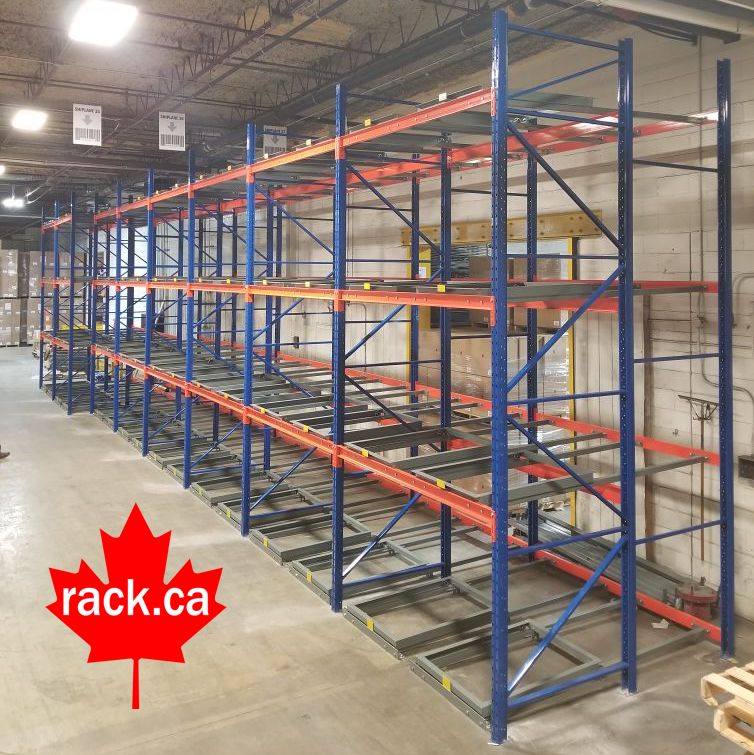 Cantilever Racking
Cantilever Racking is best suited for storing long and bulky items, such as beams, profiles, pipes, etc. that other racking systems cannot accommodate.
Drive-In Racking
Drive-in racking is ideal for storing the same products. It utilizes the LIFO inventory method. Products are loaded and unloaded from one side of the system. 
Push-Back
Push-back racks use carts that can hold up to five pallets and move forward as the front pallet is removed. Push-back pallet rack systems are well-suited for warehouses that need to store a high volume of SKUs and want to maximize their storage density.
Selective Racking
Selective Pallet racking is the most common racking solution because it can be customized to meet different requirements. It allows for one pallet per level to be stored side-by-side, making all pallets accessible from the aisle. Pallets are stored in horizontal rows and on multiple vertical levels. Forklifts are used to load and remove pallets from the rack.
How to Choose Industrial Storage Racking
Consider the following factors when looking for a storage solution for your warehouse. 
Cost:

One of the first things to consider is your budget. Consider the cost of the system itself, the design, and the installation. While getting cost-effective storage solutions is good, you still need to consider if it meets your storage capacity and other requirements. Do not compromise on quality to cut down on expenses.

Space:

This is an essential factor to consider, mainly if you have limited space. Choosing a racking system that can allow you to increase the rack levels will be the best option.

Weight Capacity:

Before making a purchase, check its weight capacity. Can it hold the weight of the products being stored on it?

Material Handling Equipment:

You also need to consider the type of material handling equipment, such as forklifts, pallet jacks, or conveyors used in the facility, when choosing an industrial storage racking system.

Inventory and Product Characteristics:

Different weight, size, and shape requirements must be considered to select an appropriate industrial racking system. If you are storing long and bulky loads like iron pipes, lumber, steel pipes, plywood, veneer, etc., cantilever racking is the perfect option.

Safety Regulations and Standards:

Pallet racks have guidelines such as ANSI/RMI and OSHA. Is the pallet rack designed and installed in compliance with these standards for workers' safety and the storage system's integrity?

Future Growth and Expansion:

As your business expands, your storage needs will grow as well. It is essential to have a racking system that is flexible enough to accommodate changes in inventory, product mix, and storage needs over time, ensuring that you have a long-term solution for your storage requirements.
Tips for Choosing the Right Industrial Storage Racking
Consult with experts and professionals. They have adequate knowledge of how these systems work and are in the best position to guide you in making an informed decision.

Research and compare different options. Do your research before going to the market. Read about the advantages and drawbacks of each of the systems and

everything you need to know about racking systems

before making a purchase.

Prioritize safety and compliance. This will prevent accidents and injuries.

Choose quality over cost savings. This can't be stressed enough. A high-quality racking system can help you minimize the damage of goods and accidents.

Consider long-term benefits and ROI. A quality racking system will provide long-term benefits and a higher ROI.
Choose Canadian Rack Technologies for Industrial Storage Racking for Your Warehouse
Choosing the right industrial storage racking for your warehouse in Toronto is a crucial decision you should not make alone. Canadian Rack Technologies Inc. is right here for you. We have a wide selection of state-of-the-art and well-maintained cantilever, carton flow, selective, pushback, and other types of pallet racking systems. We also provide thorough pre-health and safety reviews and plans to maximize warehouse safety and efficiency. Contact us today!