Industrial racking systems are metal structures designed in such a way that they support warehouse goods and industrial facilities. They're an essential part of a warehouse's structure and make operations smooth and efficient for the company's logistics and supplies. These industrial shelving systems are solutions to inappropriate stacking and reoccurring motion injuries.
Racking systems come in different sizes and categories. Keep reading to learn more about them.
Types of Industrial Racking Systems
Industrial racking systems are categorized according to the system type, namely:
Automated systems

Crane rack systems
The selective racking system is the most dominant of the types highlighted above because it is the most efficient for FIFO (first in first out) types of operations and is the most economically priced of the bunch. 
Applications of Industrial Racking Systems
The industrial storage racking market is further classified into retail, manufacturing, packaging, food and beverage, e-commerce, and pharmaceutical.
Retail merchandise is the most common use for industrial storage racks because it encompasses a wide range of products like footwear, clothing, fabrics, cosmetics, medicine, and stationery. The rise in demand for retail products has resulted in a parallel spike in the demand for retail segments of the industrial racking system.
Regions Where Industrial Racking Systems Are Used
The industrial racking systems market is strong in North America, Europe, Asia-Pacific, and other sectors.
The Asia-Pacific market is said to be the fastest-growing region in the global racking system market.
10-Year Forecast for Industrial Racking Systems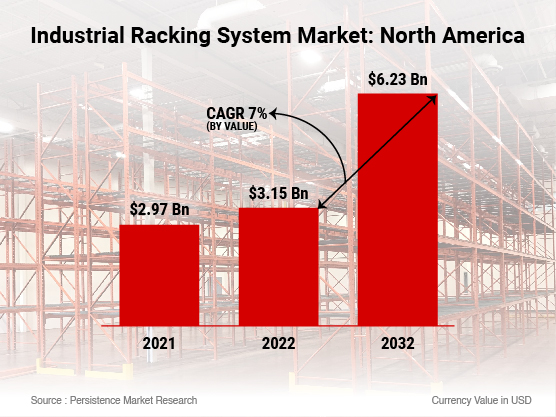 According to research, the U.S. and Canadian industrial racking system market experienced a yearly growth of 5.7% between 2017-2021. This is due in large part to the considerable increase and focus on e-commerce over the last few years. 
As of 2022, the industrial racking system market was estimated to have reached a total value of $3.15 billion. The rapid increase in warehouse development, demand for storage facilities, and increased awareness of how useful and practical it is for goods storage are said to be the driving force behind the growth of the industrial racking system market.
Sales within the industrial racking systems market in the U.S. and Canada are projected to increase at a CAGR of 7% between 2022-2032. As more automated machines are introduced in warehouses, it will help to reduce complexities in warehouse operations.
The Impact of COVID-19
The industrial racking system market was massively affected due to the global lockdown and movement restrictions.
As the pandemic spread, it affected various industries, and the industrial racking systems industry was no exception. However, the decline in the industry was anticipated in 2020 due to the closure of most manufacturing and automobile production companies in China, India, the U.S., and Europe. The closure posed a significant challenge to the distribution of industrial products.
At Canadian Rack Technologies Inc., we specialize in helping businesses upgrade their storage systems and streamline their operations with our high-quality industrial racking systems. Contact us now to learn more or request a free estimate!