Choosing the right pallet rack decking and storage solutions for your warehouse or order fulfillment facility makes all the difference in your business operation. Installing sturdy and reliable pallet rack decking systems throughout your facility ensures the safety of your workers in addition to optimal operational and product organization. It also makes it easier for workers to safely and conveniently locate specific products and load, unload, and move them around the warehouse as needed. But how do you know what type of pallet rack decking will provide the best warehouse storage solution for your facility?
With a wide range of pallet rack storage options available on the market, choosing the right one for your operation can be a little overwhelming. Keep reading to learn about the different types of pallet racks that are available in Ontario.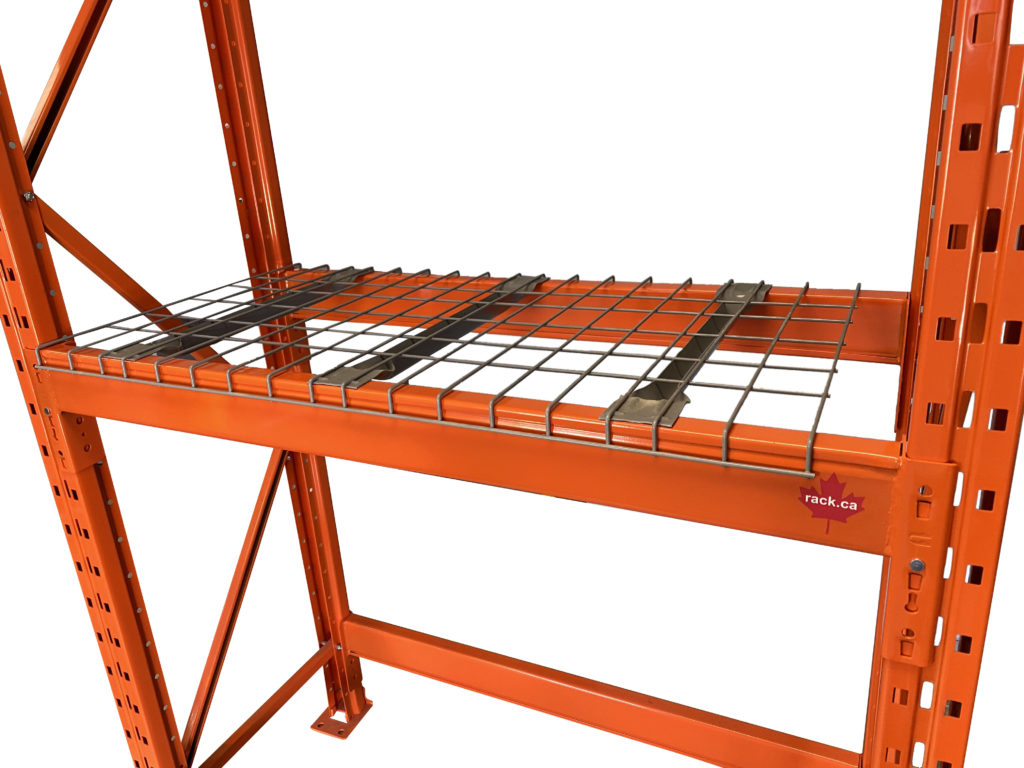 What Is Pallet Rack Decking? What Does It Do?
Pallet rack decking is the portion of the storage bay that physically holds the materials being stored. Depending on the size, shape, and weight of the products being stored, you need to ensure that you install the right type of pallet rack decking to accommodate the pallet specifications.
Rack bays that are equipped with the proper decking make it easier for warehouse and fulfillment center employees to safely and efficiently do their jobs. They enforce more stable and versatile working conditions by keeping products organized and easy to reach using various types of material handling equipment such as forklifts, carts, conveyers, and more.
Why Load Capacity Matters
The load capacity and type of pallet rack decking system you install for your warehouse, distribution center, or manufacturing facility matters because it plays directly into the safety conditions of your work environment. To make sure you're making the right choice, you need to know exactly how much weight your pallet rack decking system can hold. Moreover, you should also know the cumulative minimum and maximum weights of the products that you're storing so you can organize them accordingly.
What Type of Pallet Rack Decking Do You Need?
Once you've nailed down the exact weight capacity, size, and other dimensions that you require for pallet rack decking in your facility, you can choose the right product that meets your criteria. Here's a list of the different types of pallet rack decking that's available.
Wire Mesh Decks
Wire mesh decks are ideal for storing a wide variety of items including clothing, cartons, drums, and any other types of low weight products your facility stores. Wire decking is durable, versatile, and makes it easy to keep your products perfectly stacked and organized for easy visibility, identification, and movability when needed. Workers can see what products are being stored on each bay and determine the best method of reaching them based on product type, size, shape, and weight.
Netting can also be added to the wire mesh deck to prevent products or boxes from becoming dislodged from the bay and potentially injuring an employee.
Pallet Support Bars
Also known as cross bars, metal pallet support bars are an extremely sturdy and fireproof alternative to traditional wood pallet racking systems. They look a lot like 2 x 4 wood planks, but they're actually a lot more durable and safer to use in warehouses and storage facilities because they lower the risk of a fire. Metal pallet support bars also increase structural stability of your pallet racking system and are therefore a worthwhile investment for any warehouse, storage facility, industrial complex, manufacturing unit, or distribution center.
2 x 6 Plywood
Plywood is typically a good affordable option for lightweight storage items such as clothing, small household appliances, electronics, etc. In some cases, you might even be able to use extra wood you have in your warehouse rather than purchasing new planks. Just be sure to inspect them for damages and guarantee that they're still in good condition.
Note that fire marshal regulations in Ontario limit the use of wood as a type of solid decking without the use of in-rack sprinklers as these can be fire hazards. If you do choose to go this route for your pallet racks, be sure to take special safety precautions and make sure your employees undergo routine warehouse safety training.
Slotted Decks
Slotted open steel decks are a great alternative to wire mesh decking. For larger items, they provide excellent surface area, which helps prevents damage during storage. Galvanized steel slotted decks are also fireproof and have an open design that facilitates great product visibility, reachability, organization, and efficiency.
Perforated Steel
While wire mesh decking is the most highly recommended warehouse storage solution, perforated steel decking is ideal for bulk storage and small items that could fall through wire mesh openings. Perforated steel decks have reinforced 12-guage steel channels underneath that increase their load bearing capacity to about 3,000 lbs. Made with 14-guage steel that contains 1" perforations, this decking solution makes it easy to rearrange the shelving as needed to maintain optimal organization and storage capacity.
Solid Steel Decks
Like their perforated counterparts, solid steel decks also provide a sturdy storage solution for bulk items, small items, and bagged items to be stored. Solid steel decks, however, have a smooth powder-coated surface that allows for easy sliding of stored goods without damaging the packaging. They're also made of 14-gauge steel and have 12-gauge steel channels to reinforce their weight capacity at 3,000 lbs.
Punch Deck
Punch decks also go by several different names including safety grating, grate-lock, corrugated decking, or Pro-Deck 50. This is a type of metal decking that provides excellent weight and storage capacity and comes in a variety of styles to suit the needs of your warehouse. Not only are punch decks fireproof, but their perforated design also prevents pooling water, which can damage product packaging and pallets.
Carton Flow
Also referred to as Span-Track or Gravity flow decking, carton flow decks are available in a number of styles and designs. Featuring an incline, carton flow decking allows stored items to roll to the front of the bay for easy access without having to be pushed.
Pallet Flow
Pallet flow is a safe, convenient, and efficient warehouse storage solution that allows forklift operators to load pallets on one end of the pallet rack. Once the pallets are loaded, they can glide gently to the other end of the rack with minimal effort and no damage. This method is typically used in FIFO (first in, first out) pallet storage facilities that require fast product turnaround.
Canadian Rack Technologies Inc. is one of the leading pallet racking system distributors in North America. We provide a variety of custom-tailored pallet racking and warehouse storage solutions to industrial complexes throughout Toronto and the GTA, along with extensive ongoing safety training. Contact us today to learn more.