Before the introduction of industrial shelving, storing and managing goods was a headache. However, with the advent of industrial shelving, storage became easier and more organized. The first type of industrial shelving was metal. Metal shelving has been popular for years but has limitations—it is heavy, difficult to uninstall or reconfigure, prone to rust and very expensive. 
Today, we have modular shelving systems. These systems are popular because they can be configured to meet the unique storage needs of different businesses.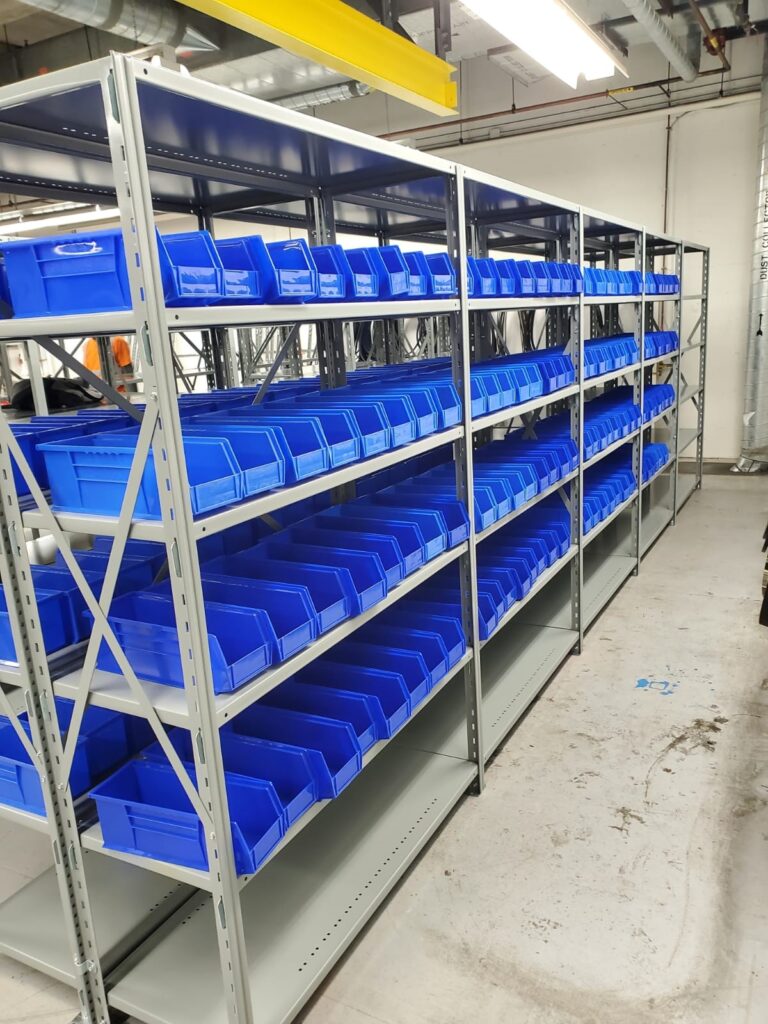 Read on to see how industrial shelving has evolved over the years. 
Traditional Metal Industrial Shelving
Industrial metal shelving is a storage solution where tools, equipment, chemicals, etc. can be stored. Metal shelving consists of upright posts, the desired number of shelves, and end and back supports. Metal shelves help increase storage capacity and efficiency by utilizing vertical space. They also come in different sizes and configurations, but the major drawback of traditional metal shelving is that it is not customizable since the shelves are made of steel; they are heavy and difficult to move around once assembled, making it difficult to reconfigure as needed.
The Development of Modular Industrial Shelving
Modular industrial shelving was designed to address the drawbacks of traditional metal shelving. They are flexible and can be configured in different ways. Unlike traditional metal shelving, modular shelving can be easily disassembled and reconstructed. One of the major benefits is that these shelves can be easily customized to meet specific needs and come at a lower price than metal shelving.
Types of Modular Industrial Shelving
Modular shelving can be made of different materials and designed in different ways. Let's look at some of the popular styles. 
Bolt-Together Style
Bolt-together style modular shelving is one of the oldest and most common types of modular shelving. This style of shelving is typically made from steel and is designed to support heavy loads. As its name suggests, its components are bolted together. 
Clip-Together Style
Clip-together style modular shelving came as an advancement of the bolt-together style. The shelving components clip together, making it easy to assemble and disassemble. It also uses nuts and bolts to secure its components together but adds metal clips for further support. One advantage of this style of shelving is that it has a long lifespan and is easy to move around, making it easy to reuse or add to new components.
Rivet Rack Style
Rivet rack works quite differently from other styles. It works more like pallet racking; it allows for versatile dimension possibilities. It has three basic components: posts, beams, and decks. Rivets are used to secure hooks on each beam that fit into slots on the posts. Rivet racks are mostly preferred today because they are easy to install, have greater shelf span possibilities and higher capacity per shelf, and can also be reused.
Wide-Span Style
Wide-span style modular shelving is a type of shelving that is designed for storing medium to larger items. Wide span shelving combines pallet racking and shelving designed for hand picking. Assembling this type of shelving is also easy and lightweight, making it easy to palletize and reuse.
Advantages of Modern Modular Industrial Shelving Systems
Modern modular industrial shelving systems are easy to assemble

They are strong and withstand wear and tear, making them long-lasting

They are scalable, so you can modify them as your business grows or expands  

Modular shelving is customizable, allowing you to design it to meet your specific needs and giving you full control over your storage space
The Future of Industrial Shelving
In 2021, the global market for industrial racking systems was estimated at USD 10.5 billion. It is expected to increase from USD 11.0 billion in 2022 to USD 16.0 billion by 2029, with a CAGR of 5.6% over the forecast period.
Industrial Shelving Systems for Small Warehouses in Toronto and the GTA
At Canadian Rack Technologies Inc., we have different styles of industrial shelving, and we can assist you in choosing the right shelving system for your warehouse and its safety considerations. Contact us today to learn more about our products.