Supply chain technology, especially in light of current and upcoming automation innovations, is constantly moving at the speed of light to the extent that it can be challenging for warehouses to keep up with the demand. Regardless of the current economic climate, your warehouse's design and material handling system needs to be equipped to quickly adapt to these ever-changing circumstances at the drop of a hat. Establishing a new warehouse storage system or reconfiguring your existing one to accommodate your changing inventory needs is a lot easier when you have a futureproof layout already in place. Here are a few tips on how you can effectively futureproof your warehouse racking and material handling system to allow for future expansion as needed.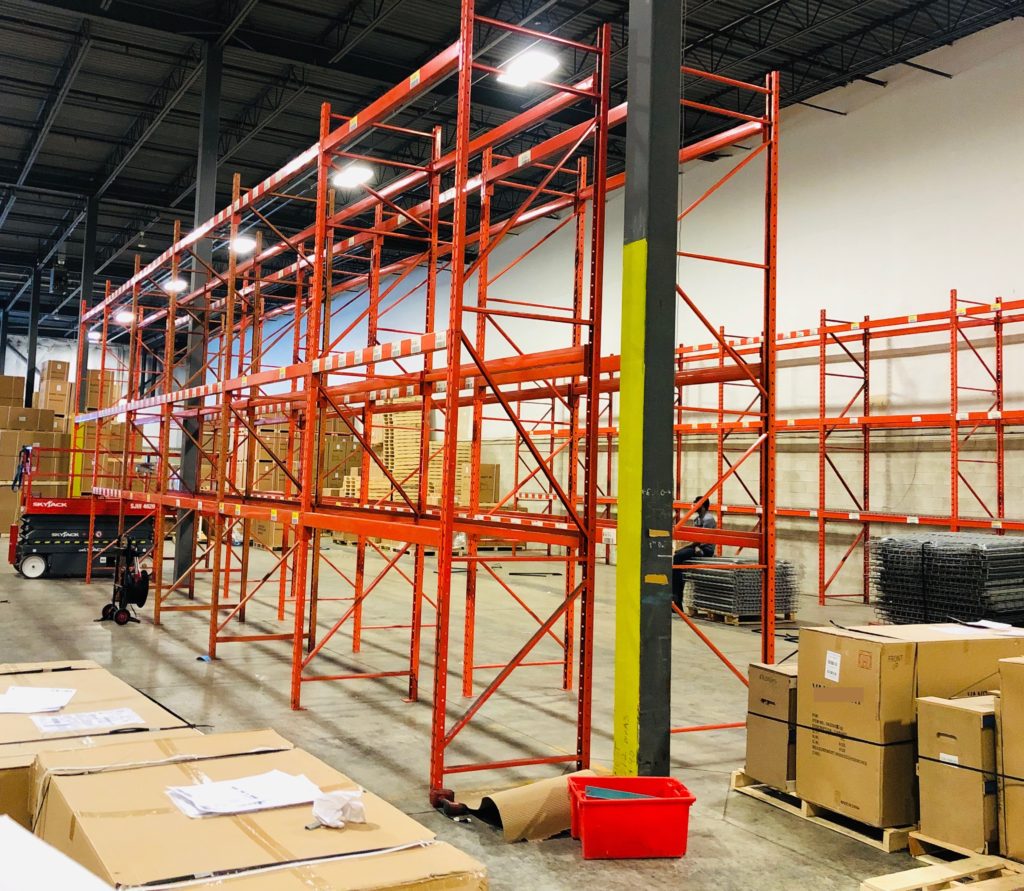 What Is a Material Handling System?
Material handling systems consist of heavy-duty mechanical equipment such as forklifts, cherry pickers, pallet trucks, automated guided vehicles (AGVs), side loaders, etc. that are used for industrial storage in Toronto and the GTA. These are standard pieces of equipment in warehouse, manufacturing, and distribution facilities that material handlers maneuver inventory from end-to-end. They ensure the safe and efficient movement of goods and products from one location to another.
Plan for Efficiency and Adaptability
Smooth supply chain operations depend heavily on a number of efficient and adaptable strategies in order to promote sustainable workplace practices. That means having the foresight to predict potential future operational growth patterns and creating a design that can easily be adapted as needed. To that end, consider hiring a professional warehouse racking engineer who can assess your setup and draw up an appropriate future proof shelving and storage solution to maximize your operational efficiency.
Software Integration
Automation is no longer simply the wave of the future. It's already present in many existing and fully functional warehouse operations. To predict and prevent system delays, your current software system needs to be constantly monitored and updated to accommodate inevitable technological changes and ensure maximum transparency, efficiency, and security.
Integrate a Vertical Modular Design
Unfortunately, there's not much you can do about the size of your warehouse. If you only have limited horizontal square footage to work with, then sometimes the only way to go when you need to expand your warehouse storage system is up. Integrating modular pallet racking and warehouse storage systems into your design allows you to make the most out of the vertical space in your facility without completely overwhelming your current operational setup.
Virtualization Support
Virtualization technology utilizes both virtual and augmented reality to create a virtual blueprint of your current warehouse operations and material handling system in real-time. This allows you to precisely track all incoming and outgoing material inventory, operational workflow, and process modeling, so that you can easily monitor the productivity and storage space availability of your warehouse.
Product Unitization
Product unitization is the process of categorizing and consolidating standalone products with other similar goods to maximize storage space and organization. An example of product unitization is combining a variety of miscellaneous individual power tools into one container to maximize space rather than having them spread out across multiple shelves.
It's impossible to predict what the future holds. After all, no one could have possibly foretold that over a year and a half ago, a global pandemic would sweep the globe and spin the international supply chain industry on its head. The point, however, is that it's important to be prepared for anything and expect the unexpected.
At Canadian Rack Technologies Inc., our expert warehouse racking professionals can implement futureproof shelving and storage solutions that are perfectly suited for your operations. Contact us to schedule a site evaluation.