Statistically speaking, the warehousing industry is considered to be one of the most dangerous commercial industries in North America. Fatality and injury rates amongst warehouse workers including associates and managers are extremely high compared to other industries.
This is true despite the fact that many shipping, warehousing, and logistics companies have stringent worker and structural safety standards in place and outlined in the Ontario Health and Safety Act (OHSA).
Storage rack safety is one of the top priorities of warehouse and logistics managers since these structures are used to house hundreds to thousands of items to be shipped out at any given time depending on the size and capabilities of each warehouse.
To ascertain that all warehouse safety precautions are being properly implemented at all times, it's important to perform regular pallet rack safety inspections. Here are a few important factors to keep in mind while performing these inspections and ensure that they're being done properly at all times.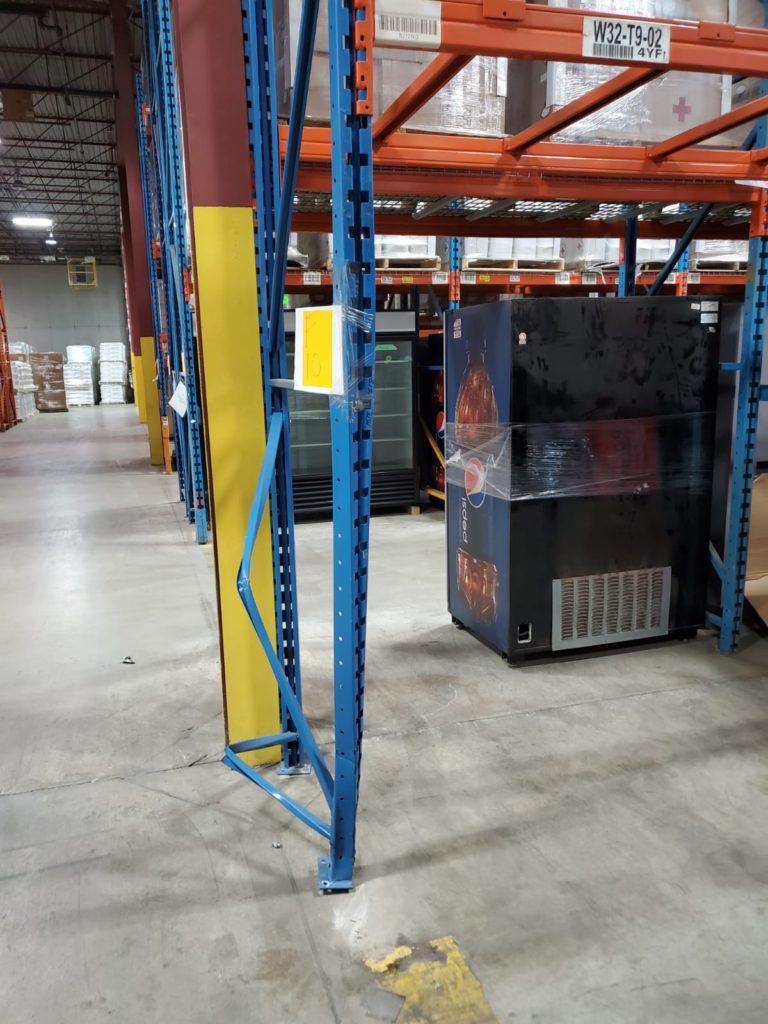 Focus on Priority Areas for Inspection
Priority areas that professional storage rack safety inspectors tend to focus on include regular equipment maintenance and repair. Standards for these types of jobs are outlined in the OHSA and are subject to change based on evolving safety standards.
Factors such as the types of racks as well as how they're being used will be carefully evaluated and taken into account. Age of the warehouse equipment (i.e. forklifts, cherry pickers, pallet trucks, etc.) and how often they're maintained will also be taken into account.
Professional inspections should be carried out at least once a year or once every six months to ensure optimal safety precautions are being implemented at all times. Based on their findings, inspectors can also recommend necessary part and equipment repairs or replacements to help improve existing safety precautions.
Storage Rack Selection and Installation
Another important factor to consider is selecting the right storage racks for your operation and ensuring that they're properly installed in your warehouse. How do you know which storage racks are a good fit for your warehouse?
In some cases, employers might feel compelled to initiate what's known as a Pre-Start Health and Safety Review (PSR). While PSRs aren't mandatory as long as you have the proper documentation proving that the storage structures in your facility comply with current health and safety standards, they're a good starting point for new facilities and ensure safety precautions are put in place from the beginning. Essentially, professional engineers and safety inspectors use PSRs to assess the overall safety standards of your equipment, procedures, and warehouse.
Storage Racks Condition, Maintenance, and Repairs
According to OHSA standards, the onus is on the employer and warehouse operator to guarantee that all safety precautions are adhered to at all times. Storage rack and pallet safety standards must be met to reduce the risk of worker injury and job-related fatalities.
The best way to uphold these safety standards is by scheduling annual inspections performed by a professional. Damaged equipment and parts can be identified during these inspections, giving employers the opportunity to make the required repairs, updates, and replacements.
Storage Rack and Pallet Usage
In addition to the type and condition of the racks in your warehouse, their usage is also paramount. It's up to the employer and warehouse manager to ensure that all warehouse workers receive adequate procedural, safety, and equipment usage training and certifications prior to commencing work. Certain types of machinery such as forklifts, trucks, and storage pallets also require specific types of training.
Warehouse managers and employers are responsible for providing their workers with all of the necessary safety training, manuals, tools, information, and other materials they need to perform their jobs as safely and to the best of their ability as possible.
Carefully Inspect Each Warehouse Location
One major benefit of scheduling annual warehouse inspections is that the inspector will carry out a thorough assessment of your entire warehouse location. This includes a complete evaluation of the facility itself, your shipping and receiving setup, the type and condition of the machinery being used, and employee training.
Warehouse location inspection is an effective method to adequately identify potential inefficiencies, inconsistencies, and potential business interruptions in the making. Ultimately, the goal is to help anticipate these factors well in advance and find feasible solutions to either remedy or prevent them from happening.
Frames – Front and Rear Posts/Uprights
To maintain optimal efficiency and functionality, racking systems require a strong and structurally sound end-to-end frame. Front and rear posts including uprights need to be carefully installed and maintained according to manufacturer instructions and recommendations.
Routine inspections can help identify potential problem areas and damaged pieces before they escalate to major equipment malfunctions, production delays, or business disruptions.
Pallet Rack Post Protectors are a very good investment to protect and safeguard your frames from costly damage and potential employee injuries.
Accessories
Aside from keeping your warehouse equipment and storage racks in proper working condition, another important component of creating a safe working environment is making sure you have the appropriate accessories needed for each storage rack.
Safety accessories such as column guards and rack protectors can help reduce the lateral force damage incurred by racking, pallets, and the merchandise they contain.
Beams
Pallet racking systems typically feature different types of load beams: step beams, box beams, and structural beams.
Instead of a support step, box beams are flat on all four sides and can be mounted onto an upright frame column using hooks, rivets, clips, or bolts. These accessories are used to lock the beam in a sturdy upright position.
Lastly, there are structural beams which are designed in a C-shape. Structural beams can hold larger weight loads than their abovementioned counterparts. They have connecting clips on both ends and are typically paired with structural uprights. However, structural beams can also be used with standard roll formed uprights if needed.
General Housekeeping
Annual inspections are a core component of maintaining warehouse and logistics efficiency as well as high safety standards. Aside from keeping your employees safe at all time, proper inspections and subsequent maintenance performance can help enhance your overall warehouse and logistics operations by significantly reducing the risk of injury, fatalities, liability issues, and operational delays.
At Canadian Rack Technologies Inc., we are experts in creating and maintaining stringent pallet rack safety plans that are customized for each warehouse. Our highly experienced staff has performed countless PSRs to ensure that warehouses across Ontario are in compliances with the OHSA. Contact us today to learn more or to schedule a warehouse safety inspection.