Apples to oranges comparison.
A problem most businesses constantly face when a customer is comparing prices on a product between two or more competitors.
In the tool world it is in some cases a comparison of prices between different retailers of the same tool made by the same manufacturer. The reason for price difference? The same tool may be made with (internally that can not be seen by the eye) some plastic parts (cheaper) and the other with steel parts (more expensive) hence a difference in pricing. But unlike food products tools do not have an ingredients label to showcase this fact of what's inside them. The tool made with the steel parts will definitely be more reliable and last much longer than the tool made with plastic parts.
In The Material Handling World It Will Be The Gauge Of Metal Being Used That Will Be The Biggest Factor In Pricing.
The majority of the pallet rack beams Canadian Rack Technologies Inc. sell are of 14 gauge content where most of our competitors sell a 16 gauge product. And in the case of frames we sell a 13 gauge product where as most competitors sell a 14 gauge product. And I must mention this is on domestic (Canadian made) product, in most cases imported product comes at an even lesser gauge some times only 18 to 20 gauge (very flimsy).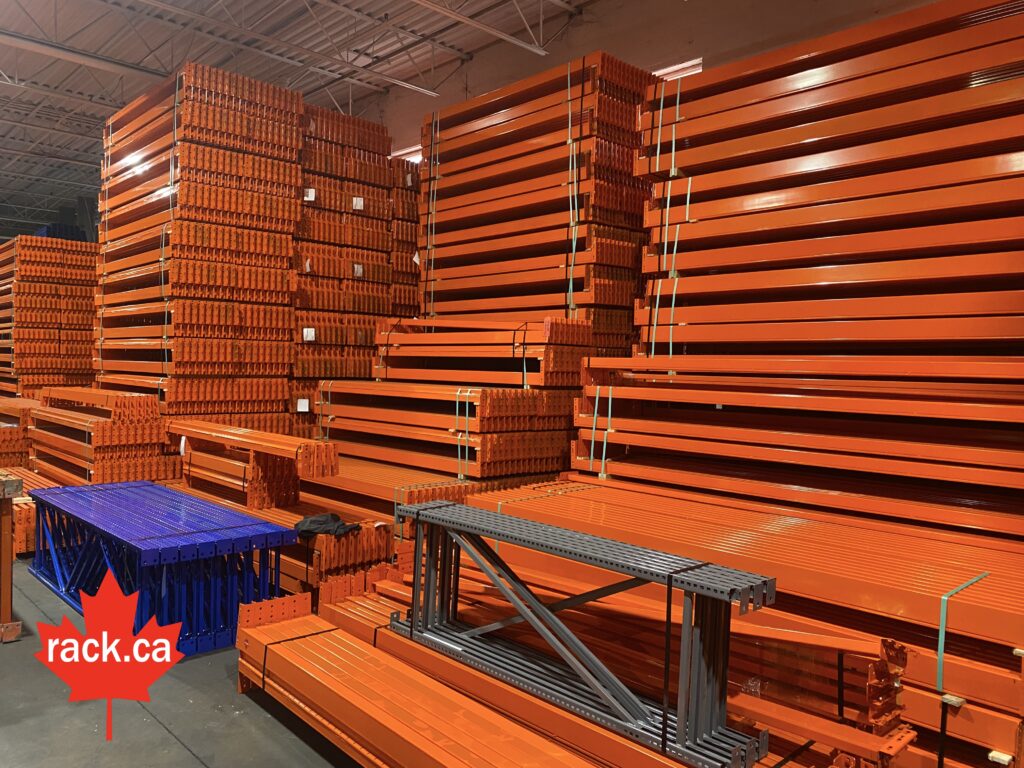 Seems like a very small difference but in actuality it is a much larger difference. If you are old enough to remember, a good comparison is the old steel pop / beer cans compared to the newer tin type cans. Remember trying to squish the old steel cans with your hands? Not as easy as the newer tin type cans. This is a good comparison when it comes to explaining strength and durability between just a couple gauges.
Well now think of the big heavy machines (lift equipment) that are constantly in contact with your pallet racking system. A 14 gauge beam is more likely to be able to take on less ware and tear or damage than a 16 gauge beam due to the thickness (gauge of steel) and rigidity. And the same applies to a 13 gauge frame compared to a 14 gauge frame.
Sure you may save a few dollars up front on a lesser product (same size, less gauge) with almost comparable capacity ratings but the life cycle and replacement factor should also be taken into consideration. Not to mention the safety factor when thinking about product failure or even worse a rack collapse.
Information And Description Of Pallet Racking Is Key When Receiving A Quote
 It pays to be informed, unfortunately most pallet racking dealers and some manufacturers do not state gauge or capacity ratings when providing a quote, just the beam or frame size and a price. When Canadian Rack Technologies Inc. provides a quote we itemize the size, gauge, capacity rating, and weight along with the pricing.
So next time you receive a quote from 2 or more different companies it might not always be best to just go with the cheapest price first without all the important facts, especially if they are omitting the very important details when providing a quote.
Always remember the famous saying: You get what you pay for!
Get High-Quality Selective Pallet Racks in Mississauga and the GTA
Canadian Rack Technologies Inc. is your go-to warehouse racking systems provider in Mississauga and the GTA. We offer affordable and feasible warehouse storage solutions for businesses of all sizes. Get in touch with us today to learn more about our products and services or to schedule a free warehouse inspection.