When it comes to industrial shelving and racking systems, safety is the number one concern. These systems are designed to hold heavy items, and if they're not installed or used correctly, they can quickly become dangerous. 
To keep people safe, it is important to follow all safety rules for industrial warehouses and storage areas, particularly those set out by the Ontario Health & Safety Act (OHSA). This includes paying attention to the kind of industrial shelving you use. If something goes wrong, the repercussions can be expensive…or worse fatal.  
According to OHSA standards, the onus is on the employer and warehouse operator to guarantee that all safety precautions are adhered to at all times
In this blog post, we'll discuss some of the key safety considerations you need to consider when installing or using industrial shelving and racking systems.
Secure All Storage Racks to the Floor
One of the main safety concerns you should consider when using industrial shelving and racking systems is ensuring the shelves are properly secured to the ground with some type of anchoring system. This will help ensure that the shelves do not tip over or become unstable, which could lead to injuries. You also need to make sure that the shelves can safely hold the items you plan to store on them. 
In general, warehouse owners must keep their tall shelves secured firmly, especially if they contain heavy or potentially dangerous goods. All shelves should be connected together, as well as to the floor. Also, shelves should have a depth-to-height ratio of 6:1 or lower; industrial shelving with insufficient depth will need stronger reinforcements to secure the entire framework in place and reduce the risk of overturn.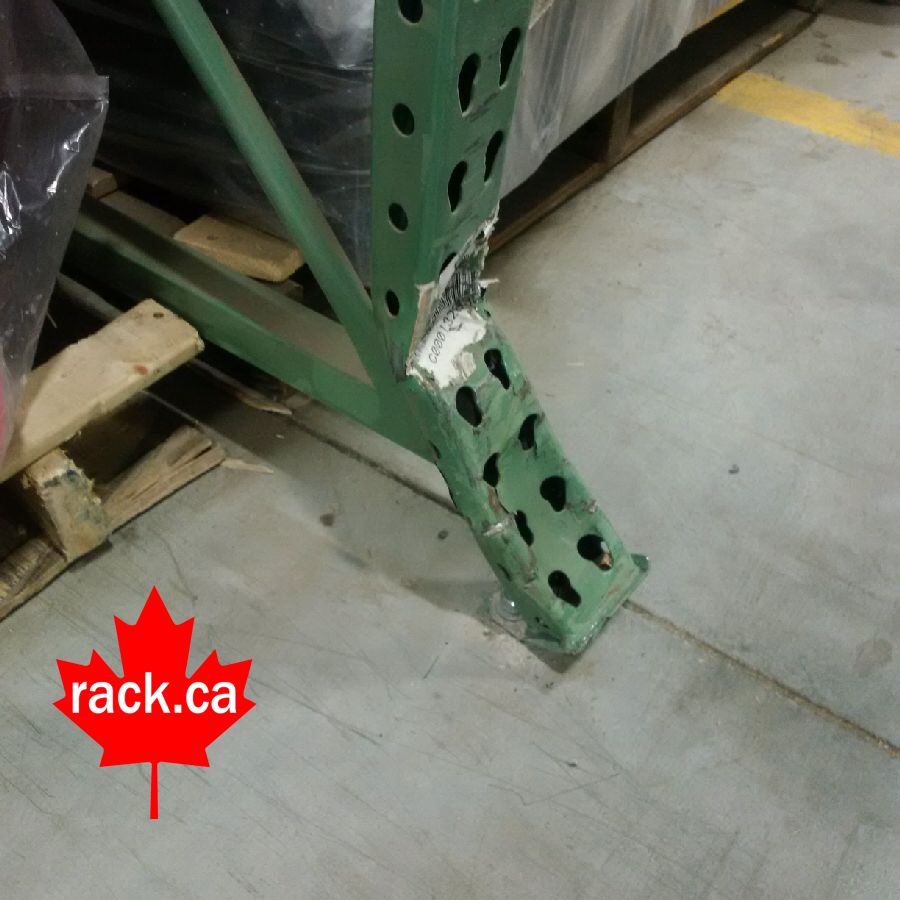 Do Not Overload the Shelves
Make sure you don't overload the shelves in your warehouse. If you put too much weight on them, it can cause the shelves to collapse. This can be dangerous for the employees in the warehouse. You should also regularly inspect any overloaded shelves to make sure they are still safe. If you have any questions about the weight capability of the shelves, you can contact your manufacturer or dealer.
Properly Label Racks
Another key safety consideration is properly labelling your shelves and racks. In warehouses that process large quantities of various products, it is easy to overlook a shelf's weight limit. Even items that are the same size can differ in weight, so warehouse managers must be mindful of how they arrange and label shelves to ensure safe and efficient product flow. 
Ultimately, this will help you store goods properly and in the right location, as well as make it simpler to locate items when they're required. Items stored improperly can fall and cause injuries, so it's important to ensure everything is labelled correctly.
It is regulation to post capacity signage at the end of storage racks stating capacity limits in plain sight for all to see.
Train and Retrain Warehouse Staff
You should train your warehouse staff regularly on loading and unloading inventory safely. They should also know how to operate heavy machinery. If someone has an accident or is a repeat offender, you might need to retrain them. 
It's a good idea to retrain all employees in general safety procedures every year. In fact, it is the employer and warehouse manager's responsibility to ensure that all staff receives the correct procedural, safety, and equipment usage training. In addition, make sure all staff have the required certifications before beginning work.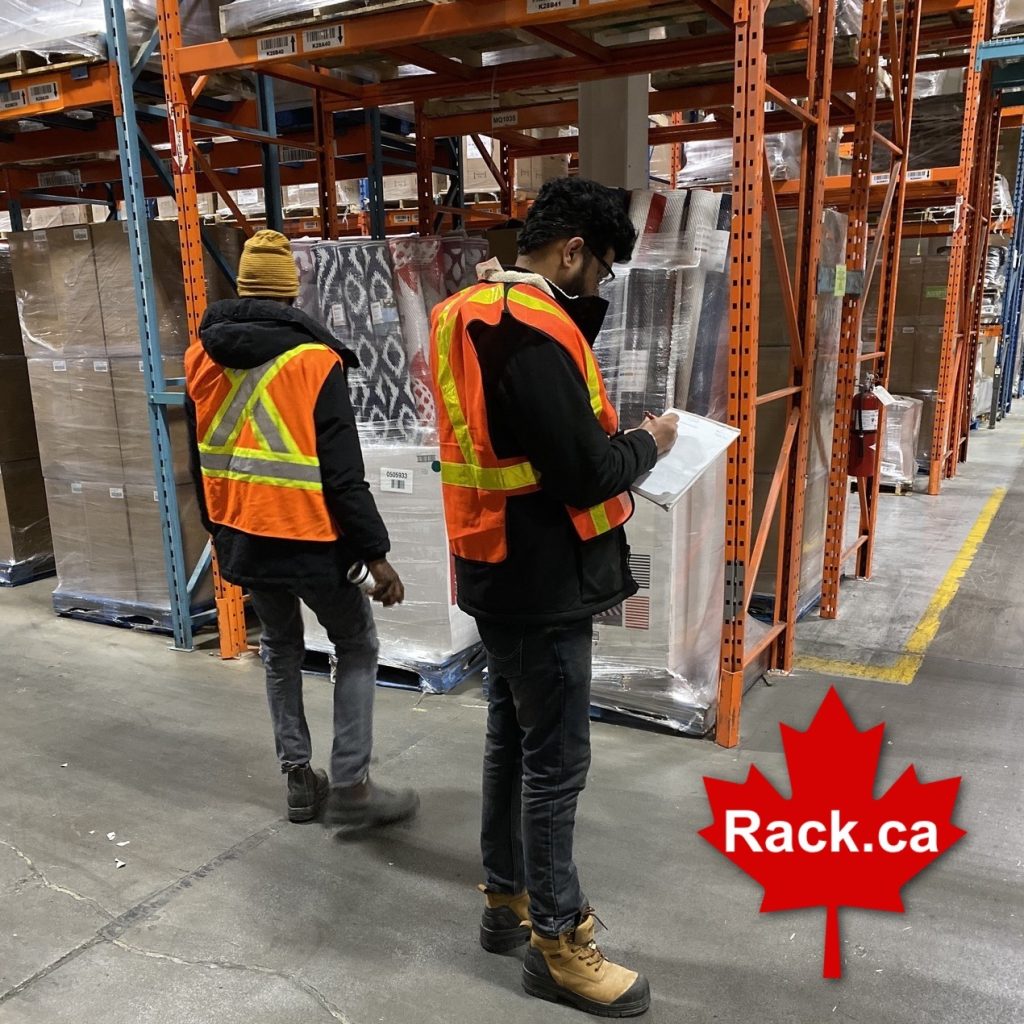 Conduct Regular Inspections of Shelving & Racking Systems
It is important to do regular inspections of your warehouse shelves, racks, and equipment to make sure that everything is safe. You should do a visual inspection daily to look for damage or wear. You should also have a schedule to do a more thorough inspection every month. 
It is also recommended to have an annual inspection to your storage system by a competent person from a racking company or engineering firm. 
You can also opt for a pre-start health and safety review (PSR), which is a method of assessing the functionality, quality, and safety of material handling equipment, pallet rack storage units, and industrial shelving. The Ontario Ministry of Labour requires that all industrial work environments provide PSRs that prove compliance with official health and safety standards.
Pay Attention to Installation and Maintenance
One of the most important things to remember is that installation and maintenance of industrial shelves and racks are just as important as regular inspections. If you don't install the shelves correctly, they could collapse. And if you don't maintain them, the shelves could become unstable over time.
Make sure you follow the manufacturer's instructions for installation and maintenance. This will help you avoid any problems in the future.
Industrial Shelving Systems for Small Warehouses in Toronto and the GTA
Canadian Rack Technologies is the leading supplier of industrial shelving and racking systems in Toronto, providing an extensive range of racking systems that can support heavy loads while maintaining OHSA compliance.
Our full-service certification package includes layout and design, supply, delivery, installation, an annual inspection program, and a certification letter. Our in-house crew is professionally trained to ensure that the utmost safety and quality standards are consistently implemented for all installation, maintenance, and repair projects. We also inspect the existing storage systems to help check for necessary repairs to improve product safety, efficiency, and durability. Contact us today to get started on your next project!