At Canadian Rack Technologies Inc., we work with you from the conception of a project through to warehouse installation and even offer maintenance services afterward. Our in-house team of design and installation experts will assemble your custom storage solution onsite, ensuring that all safety standards are met. You can have the peace of mind knowing that your project has been installed by Canadian Rack Technologies Inc. professionals who understand your storage solution needs.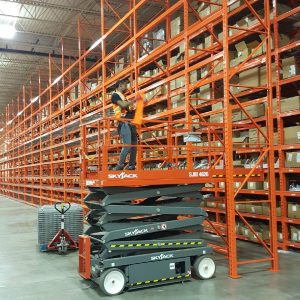 Our installation teams are also available for warehouse relocations, repairs, reconfiguration, new installations, adjustments, decommissioning, dismantles and so much more. We also offer a wide range of cantilever racking systems to improve safety standards and operational efficiency in your warehouse:
Light-duty cantilever racks
Medium duty cantilever racking- and heavy-duty cantilever racks
Warehouse Installation Experts in Toronto and the GTA
At Canadian Rack Technologies Inc., we've been in the warehouse storage industry long enough to know that there is no universal solution that works equally for all warehouse and distribution centers. Warehouses of different sizes, layouts, and capacities require unique custom storage solution designs that maximize workplace efficiency, ease of movement, and safety standards at all times. Employees should be able to confidently access specific storage items using common warehouse material handling equipment without constantly bumping into one another or having to maneuver around each other.
Our custom storage solutions are expertly designed and engineered to ensure optimal warehouse storage capacities and operational standards are met. That's why we provide the following warehouse storage solutions and installation in Toronto and the GTA:
Shelving including pallet racks, push backs, cantilever racking, drive-in/drive-thru, flow-thru
Mezzanines
Modular drawer storage
Multi-tier shelving systems, catwalk metal shelving systems, and free-standing mezzanine metal shelving systems
Why Choose Canadian Rack Technologies Inc. for All Your Warehouse Installation Service Needs?
When it comes to professional warehouse installation services in Mississauga and the rest of the GTA, Canadian Rack Technologies Inc. offers the best quality and value for your dollar. With some of the top engineering minds in the industry, we'll guarantee that your warehouse installation is completed with absolute precision and as efficiently as possible to minimize your business's downtime.
Here are a few reasons why you should choose us.
Experience
For almost a decade, Canadian Rack Technologies Inc. has built and maintained a strong reputation as being one of Canada's leading provider of state-of-the-art warehouse racking systems.
Skilled Professionals
Our team of highly skilled and trained professionals also receive ongoing hands-on training to continuously update their industry knowledge and skill set. New technological advancements to improve warehousing racking system quality and efficiency are constantly being made and it's up to us to guarantee that our knowledge and skills are completely up-to-date at all times.
Guaranteed High-Quality Work
We not only stand by the high-quality workmanship of the racking systems we supply, but we also offer complete warehouse and storage facility assessments to ensure that we're making the right product recommendations to our clients. We also take all necessary health and safety precautions to ensure that each storage system is installed with the utmost precision for long-lasting results.
Full-Service Provider
In addition to warehouse installation, we also provide thorough assessments and perform regular safety inspections to ensure the total reliability and efficiency of your custom racking system.
Efficient and Cost-Effective Custom Warehouse Installation Solutions
Your search for "warehouse installation services near me" ends here. Canadian Rack Technologies Inc. provides high-end completely customized pallet racking, cantilever racking, multi-tier racking, carton storage products, and so much more. We also specialize in custom warehouse protection products including guardrails, partitions, fencing, safety bars, wire mesh decking, and safety netting.
Contact us today to learn more about our extensive warehouse installation products in Toronto, Mississauga, and other parts of the GTA.