Canadian Rack has one of North America's largest in-house stock of new medium duty structural cantilever racking.

We are proud to partner with Cogan to provide and offer one of the industries leading cantilever rack systems in the North American market.
Cogan has been an industry leader for over 100 years, now that's experience you can trust.
Our stock cantilever racks have been designed and engineered to the highest standards in the industry.
We stock the following cantilever sizes in-house ready for quick ship all over North America or pick up from our Mississauga location: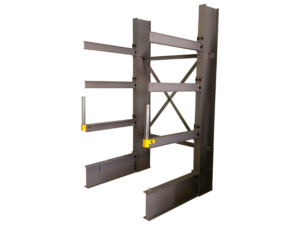 Columns: 8′, 12′ and 16′ tall (columns rated for 8000 lbs per side)
Bases: 24″, 36″ and 48″ long
Arms: 24″ arms rated for 2000 lbs
36″ and 48″ arms rated for 1000 lb, 2000 lbs and 3000 lbs per arm.
Bracing: 48″ and 60″ bracing – X brace and horizontal braces.
We also stock removable pipe stopper attachments.
Our cantilever racks can be set up as single sided or double sided.