Every warehouse with limited floor space requires pallet flow racks because of their deep-lane capacity and simple access to all pallets from the pick face. Pallet flow racks boost productivity by automatically rotating inventory on a first-in-first-out (FIFO) basis. 
What are pallet flow racks? How do they work? And how can you set them up? Keep reading to learn everything you need to know about pallet flow racks. 
What Is a Pallet Flow Rack?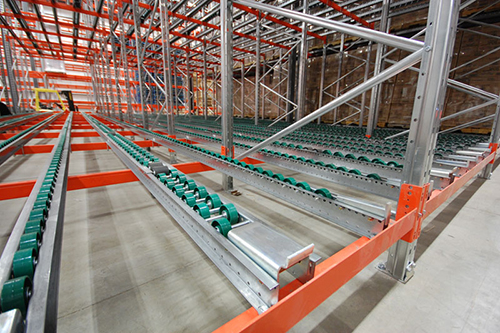 A pallet flow rack is a high-density storage system that uses rollers to store pallets. Pallets are put onto rollers at the back of the system and gravity transports them to the front of the system for smooth unloading.
A pallet flow rack system consists of a series of flow rails, wheel tracks, and pallets, arranged on a little downward slope from the load end to the unload end. Because of the rack system's construction, when the pallet is set in the first position, it starts to roll forward toward the other end.
Speed controllers are also mounted to ensure that the pallet travels safely to the unload end. When pallets are loaded into the lane, they will pile up until the lane is filled.
This creates a first-in-first-out system. Therefore, when a pallet is taken from the unload end, the pallets behind it will roll ahead one position and stop on the ramp at the end of the lane. The first pallet that is loaded into a lane will therefore be the first pallet that is discharged.
Benefits of Using a Pallet Flow Rack
There are many benefits of using a pallet flow rack. Below, we discuss some of the benefits that a pallet flow rack would bring to your company.
Improves Productivity
This is among the best features of using a pallet flow rack. Employees are more productive when employing pallet flow racks since they spend less time loading products into the rack after removing them, as opposed to when using a typical racking system. Pallet flow racks alleviate stress due to the FIFO method and can, therefore, allow employees to utilize their time for other activities.
Increases the Storage Space
Pallet flow racks reduce storage density by up to 75% by eliminating the need for aisle ways. Since pallet flow racks are made to maximize your storage density, there will be ample room to accommodate carts, forklifts, etc. With this, expanding activities won't require a larger place at all.
Non-Time-Consuming
The FIFO method that pallet flow racks use saves time since less time is spent navigating the warehouse for storing and unloading. Moving about and starting engines will take less time, thus increasing productivity.
Good for High-Density Warehouses
High density warehouses receive large quantities of packages every day, which can be a mess. Pallet flow racks can improve organization using the FIFO process because there is only one path for items to travel through when being put into and then removed from the racks.
Improves Safety
Pallet flow racks can lower the risk of accidents in warehouses because, unlike traditional warehouses where forklift operators and pickers filling orders use the same aisle, flow racks designate the aisles and allow pickers to fill orders on the opposite side.
Reduces Damaged Goods
This is possible since workers do not manually rearrange the units. The likelihood of items colliding and falling to the ground is reduced.
High Customization
Flow racks can be adjusted based on the size of the goods. They may be expanded or lowered to accommodate the size of the objects being loaded.
How to Set Up a Pallet Flow Rack
Rack uprights and beams must be plumb and level.

Flow tracks must be laid parallel to the side channels, with rolling element surfaces 90° to them.

Sections of flow track must be square.

The track slope must be uniform along the length of the lane to within 0.1% of the design slope.

It is strongly advised that one lane be erected and tested for pallet flow before proceeding with the installation of the remaining lanes.
Advantages of Pallet Flow Rack Over Pallet Rack
Pallet racks are commonly used in many contemporary warehouses and stores with date-sensitive goods, thanks to its FIFO technique. This includes beverage stores or medical facilities, industrial plants, retail centers, and other storage and distribution facilities. 
One of the main advantages of pallet flow racks over regular pallet racks is that they are stacked back-to-back to increase storage capacity. Flow lanes are equipped with wheeled tracks built on pitch to automatically flow pallets from the load side to the pick aisle, reducing travel time, stress, and equipment expenses.
The only drawback of pallet flow racking is that they more expensive than other pallet racking systems. 
FAQs About Pallet Flow Rack
Do I Need Special Forklifts for Pallet Flow Racks?
Absolutely not. Counterbalance, reach, swing or deep reach, and even clamp trucks can be used to install pallet flow systems.
What Maintenance Is Required for Pallet Flow Racks?
This is based on how frequently you load and unload the system. As a rule of thumb, we advise you to check the pallet flow system a couple of times every year.
How Difficult Is It to Load and Unload the Pallet Flow Racks?
Pallet flow racks are easier to load and unload than conventional pallet racks. Also, each pallet flow rack system comes with instructions on how to operate it.
How Much Do Pallet Flow Racks Cost and Where Can I Buy Them?
Pallet flow racks typically cost between $200 and $400 per pallet position. Canadian Rack Technologies is the best place to buy pallet flow racks in Toronto.
Get High-Quality Pallet Flow Racks in Ontario
At Canadian Rack Technologies Inc., we sell high-quality pallet flow racks. We also have a team of experienced installers who have completed thorough risk assessment to ensure that your racks are properly installed and running to provide you with the best experience. Contact us today to choose the right gravity flow rack for your needs. Get your pallet racks in Toronto today.