Roll-out racks are a convenient and space-saving and organizational solution for manufacturing and warehouse facilities that have a lot of raw material to account for. Regardless of the size of your organization, tracking and maintaining easy access to all inventory can help boost efficiency and reduce the chance of production or delivery delays. Keeping your inventory well organized is also in compliance with safety standards and can reduce the risk of workplace injuries or fatalities.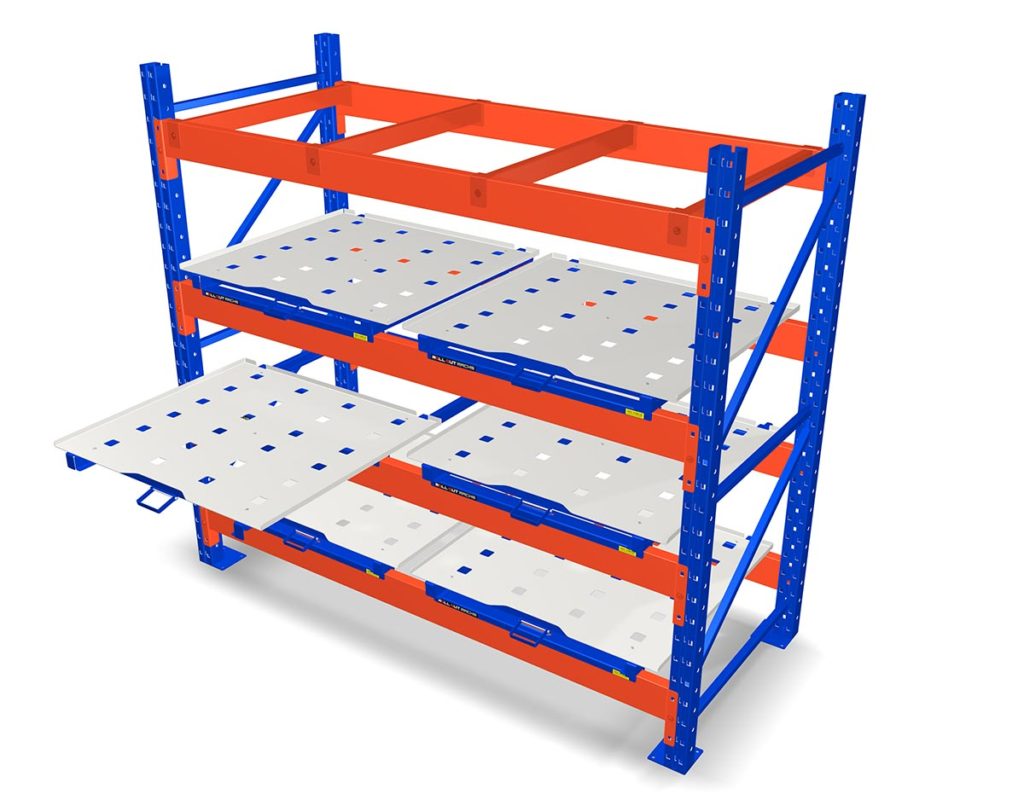 Here are all of the advantages of a roll-out racking system:
Save Space
Roll-out racks are modular and can therefore be designed and redesigned to fit within any sized space and all kinds of warehouse configurations. Dimensions, spacing between shelves, load capacities, and placement within your warehouse can all be determined based on your specific needs and preferences.
Adjustable and Adaptable
Canadian Rack Technologies Inc. offers the following five different types of roll-out racks depending on your operation's specifications:
Roll-out cantilever racks
Roll-out sheet racks
Roll-out pallets
Roll-out sheet tower
Roll-out vertical sheet rack
Each of these roll-out racks has unique features that can be used to store a variety of raw materials in your warehouse including pipes, tubes, and sheet metal. The great thing about roll-out racks is that they serve a multitude of different purposes and can be wall mounted or installed as standalone units in any area of your warehouse. And, you can choose to modify the structures at any time, so you don't have to commit to any one design if you decide it doesn't suit your needs.
Affordable
Compared to other types of storage racks, roll-out racks are fairly affordable, and they can easily be integrated into your existing warehouse configuration. You can adjust the structure as you receive and ship out raw materials.
Of course, pricing depends largely on the size of the rack, the type of rack, functionality, and the accessories required. Routine maintenance, repairs, and replacements should also be taken into account. But considering the amount of money your organization can save simply by installing roll-out racks, the cost of maintenance is fairly minimal.
Easy Accessibility to Raw Materials
As mentioned, you have the option of designing and redesigning roll-out racks as you see fit. Shelves can be lowered or lifted higher to either minimize or increase the space in between depending on the size of the raw materials being stored or make it easier for warehouse workers to access materials with cherry pickers and forklifts. Additionally, roll-out racks can easily be assembled, dismantled, and even moved to different areas in your warehouse for your convenience.
Easy Handling
Lastly, roll-out storage racks are extremely easy to handle to the point that pretty much anyone can learn to use them. Training sessions are fairly simple, and the racks can usually be operated by one worker.
Are you in need of high-quality, customizable, and easy to install and use roll-out storage racks for your warehouse? Canadian Rack Technologies Inc. is one of the leading designers, manufacturers, and distributors of highly engineered roll-out storage racks in North America. Contact us today to learn more about our products or to place an order!