Adjustable pallet racking is one of the most durable, accessible, modular, and commonly used racking systems across the board in warehouses.
This is because adjustable pallet racking makes it easier to keep warehouses and other types of industrial complexes or workspaces extremely organized, while also offering unparalleled convenience and accessibility for workers.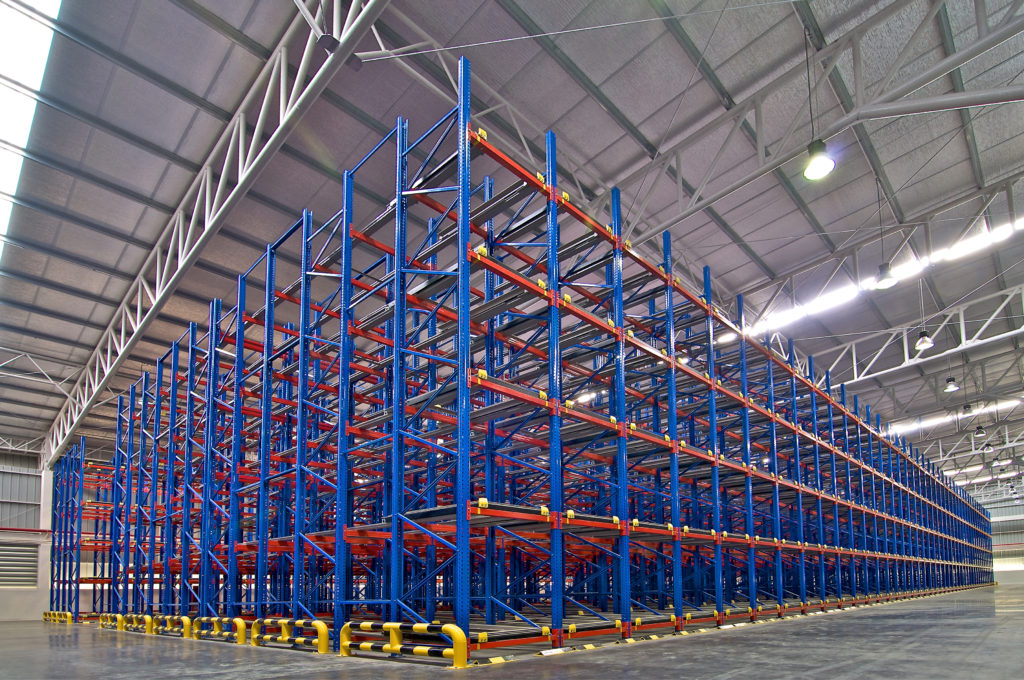 All businesses that depend on the supply, demand, and storage of products need a reliable, sturdy, and well-organized racking system to help their operations run as smoothly and efficiently as possible.
Of course, every business has their own unique way of doing things, which means you need a racking system that complies with your specific safety standards and organizational methods, and encourages worker compliance.
Incorporating adjustable pallet racks in your business' warehouse and storage system frees you to change the dimensions of your storage units as needed. That means you can widen the dimensions once more inventory becomes available or narrow the dimensions to create more space for additional storage units as needed.
Beams can be lifted up, lowered, or moved from one side to another to create more space for large or small objects, giving you greater control and accessibility.
What Are the Functions of Adjustable Pallet Racking?
Aside from offering considerable convenience and the ability to modify the individual configuration of pallet racks as needed, these racking systems also have the capability to hold large loads for extended periods of time.
The size and configuration of these pallet racking systems can be modified based on a number of factors, including your forklift capabilities, the square footage of your warehouse or storage space, and the dimensions and weight of the products being stored.
Adjustable pallet racks are built with strong steel beams, some of which stand upright to support the structure internally and externally. Other beams are horizontally configured to hold the weight of the products being stored. Beams can be adjusted and moved around as your storage requirements change.
What Are the Benefits of Adjustable Pallet Racking?
There are a lot of benefits to installing and using an adjustable pallet racking system in your storage unit or warehouse.
As your business continues to expand, your professional needs are also going to change, which means you're going to need more space to store your valuable goods. Whether you own a product- or service-based business, there's always a need for a reliable, durable, and convenient storage system.
Here are a few ways in which a high-end pallet racking system can help improve your business operations.
Dynamic & Easily Customizable Designs
Modular structural designs, as opposed to an integrated, static structure, make it easy for you to customize your pallet racking storage unit at the drop of a hat.
As your business continues to expand, you can adjust the size and length of each individual racking level or the entire unit to accommodate your needs and warehouse space.
The more inventory you acquire, the more storage space you're going to need. So, the right adjustable pallet racking system makes it easier to keep your warehouse management operations productive and on schedule.
Business Growth Accommodations
One of your top priorities as a business owner is to make your company as successful as possible. In addition to high profit margins and incremental growth, increasing product and service demands along with overall customer and employee satisfaction are all important measures of success.
With that said, as your company continues to grow and become more successful over time, you're going to need an inventory storage unit that's capable of not only keeping up with current demand, but also accommodating potential future demand.
A big part of growing your business means thinking and planning ahead. If your projections are predicting substantial growth in the near future, then you need to make sure that you have the sufficient storage infrastructure to support that growth. That's where durable adjustable pallet racking systems can really come in handy for your business.
Modular designs mean that you can make necessary adjustments and widen or narrow down the dimensions as you acquire or liquidate product. Every square inch of the storage space is used efficiently to ensure that all of your available product fits perfectly.
Accessibility
Adjustable pallet racking storage units are typically open-faced, which means all of the product stored is easily accessible from every angle whenever you need it. Varying extraction techniques and different types of material handling equipment can be used to obtain products from high or low shelves.
These racking systems also make it easy for you to keep your warehouse, storage unit, or retail store clean and organized. Since the individual shelves can be adjusted, beams can be manoeuvred from one side to another, so that you can clean underneath the storage unit as needed.
This level of accessibility also makes it easier to keep track of inventory, which can sometimes get lost in the shuffle.
Improved Workplace Ergonomics & Productivity
All of the abovementioned factors culminate in better workplace ergonomics and productivity for your business.
The more accessible products are to warehouse employees, the faster these items can then be moved out of the storage area and displayed on the main sales floor or shipped out to eagerly waiting customers.
Also, the versatility and customizability of adjustable pallet racking systems allows them to be tailored to the specific needs of your business and your employees, making it easier and more comfortable for warehouse workers to safely carry out their various tasks.
Adjustable Pallet Racking Systems in Canada
Canadian Rack Technologies Inc. is committed to providing high-quality adjustable pallet racking systems and services to our clients. We buy and sell new and used pallet racking, industrial storage systems and warehouse equipment. Our service packages also include engineering, layout and design, supply, delivery, professional installation, and annual inspection programs. For more information on our pallet racking systems, contact us today!