Various warehouse safety measures dictate that pallet racks should never be installed flush against a structural component such as a wall. To prevent potentially cataclysmic accidents caused by material handling equipment, industrial cleaning machinery, and seismic events, it's important to adhere closely to the recommended clearance parameters of your warehouse and pallet rack manufacturer.
The recommended clearance between pallet racks and warehouse structures depends largely on the size and layout of your facility.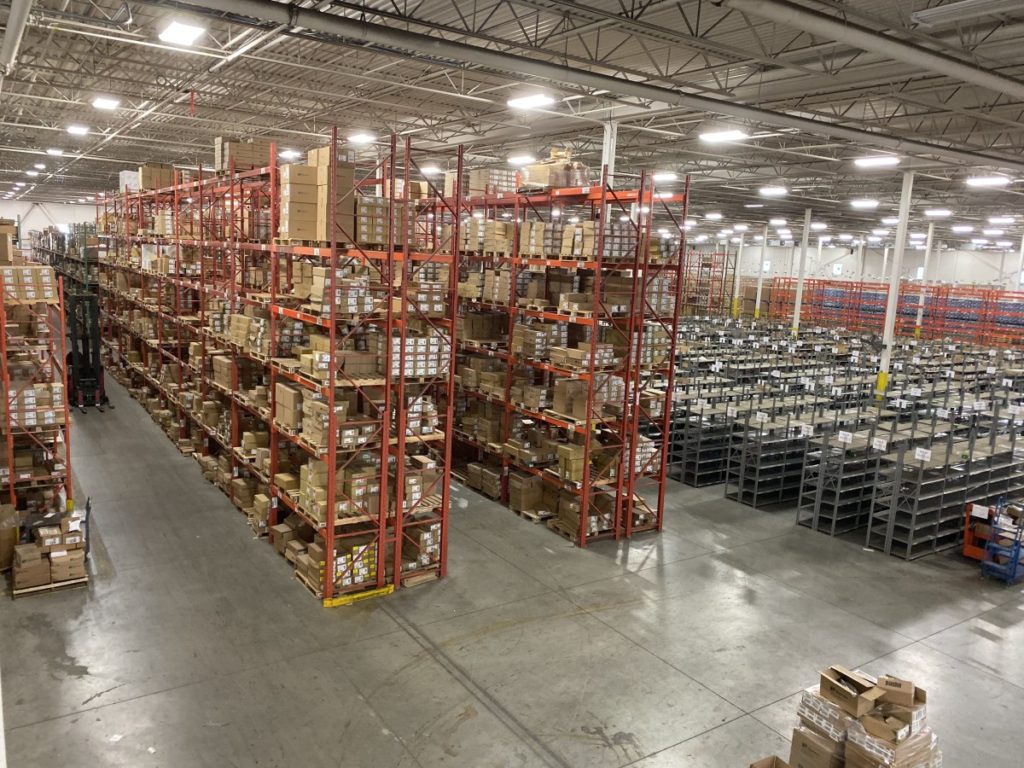 Considerations for the Planning and Use of Industrial Pallet Racks
Installing pallet racks in a safe and structurally secure manner requires a great deal of precision, planning, and expertise. There are a few factors you need to take into consideration when both choosing the right pallet racks for your warehouse as well as how and where to install them. Here are a few things to keep in mind.
Size and Layout of the Warehouse
It's important to choose the appropriate type of pallet rack system that fits within the size and layout dimensions of your warehouse. Otherwise, you could create a risky and potentially dangerous working environment for your crew. Pallet racks come in many shapes and sizes, so you need to make sure that you choose a design that fits within your warehouse, has the appropriate weight carrying and distribution capacities, and that adheres to the recommended warehouse clearance parameters.
Weight Bearing Capacity and Distribution
The weight bearing capacity of your pallet racks determines the load size that the structure is able to hold over long periods of time. Regardless of weight capacity, pallet racks should always have a strong foundation and be professionally installed to reduce the risk of structural failures and harmful accidents.
Consider the type of products and other inventory you regularly store in your warehouse. How big are the boxes? Do they fit neatly within the dimensions of your shelving units or do they stick out a little bit on the sides? These measurements will help you determine the type and size of the pallet racks you need for your warehouse.
Warehouse Clearance Values
Warehouse clearance values are also connected to the size and layout of your facility. Not only do you need to consider the clearance between the pallet racks and warehouse structures, but you also need to make sure there's enough space in between the aisles for employees to work comfortably. Again, this will depend on the exact size and layout of your warehouse in conjunction with the types and size of your pallet racks and material handling equipment.
Some warehouse and pallet rack configurations will allow for wider aisles where multiple forklifts can occupy the same space side by side. Smaller warehouse and pallet rack configurations might only allow for one forklift to go down the aisles at any given time.
It's up to the warehouse management team to determine the safest and most efficient warehouse clearance dimensions that are feasible for their facilities and day-to-day operations.
Need help figuring out the pallet rack clearance for your warehouse? Canadian Rack Technologies Inc. are the leading experts in designing and manufacturing safe and durable custom pallet racks. Our experienced technicians will examine your warehouse space, take measurements, and make appropriate pallet rack design and installation recommendations based on your needs. Contact us today to learn more.